Home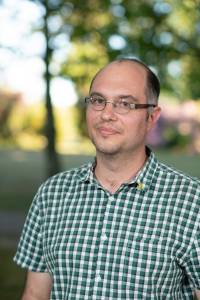 Jean-Marie Favreau
Bâtiment F
, bureau F204
Campus Universitaire des Cézeaux -
LIMOS
1 rue de la Chebarde
TSA 60125
CS 60026
63178 Aubière Cedex - France
I am an Associate Professor (maître de conférences) at Université Clermont Auvergne, and part of the thème G4, Axe MAAD of LIMOS (UMR 6158). I recently started a common project (ACTIVmap) with IGN on tactile maps for visually impaired people.
I defended my PhD thesis on October 22nd, 2009 at LIMOS (Clermont-Ferrand, France) with Vincent Barra. The subject of my PhD was "Tools for tiling surfaces". See also the illustrations page. I spent one year as post-doctoral research associate at the IMATI - CNR (Genova, Italy). I was recruted in September 2010 as maître de conférences at the Université d'Auvergne, and my first assignment was at the ISIT (UMR 6284 UdA – CNRS).
Research interests
Keywords: unfolding, cutting, tilling, topology, geometry, expert knowledge modelization.

Applicative contexts: medical imaging, computer graphics, 3D printing, visual impaired people, geomatic.
During my PhD thesis thesis in 2006-2009, I focused on questions of cutting and tiling surfaces, integrating topological, geometrical and combinatorial constraints on the tiles. During these years, I designed algorithms using edge-based paths. I explored various applications, from medical imaging to computer graphics.
During my post-doc, I worked with the IMATI members on tiling/segmentation methods on surfaces, mainly using scalar functions and algorithms using piecewise-linear paths. I was also interested on working with semantic descriptors and/or expert knowledge to work on automatic labelling and/or classification.
Since September 2011, I am associate professor at ISIT. I joint first the ALCoV team, and I was focusing my work on medical imaging contexts, especially on pre-operative images like MRI, with the aim to extract surfaces from the voxel description, integrating expert knowledge, topological and geometrical constraints.
I am now of the thème DSI, Axe MAAD of LIMOS (UMR 6158), working on geometry processing, and I am working on the generation of tactile maps for visually impaired people.
Recent publications
T. Dietenbeck, F. Torkhani, A. Othmani, M. Attene, Favreau J.-M.

Multi-layer Ontologies for Integrated 3D Shape Segmentation and Annotation

. In

Advances in Knowledge Discovery and Management

. Springer International Publishing Switzerland. (2016).

bibtex
T. Dietenbeck, A. Othmani, M. Attene, Favreau J.-M.

A Framework for Mesh Segmentation and Annotation using Ontologies

. In

Extraction et gestion des connaissances (EGC'2015), Actes, 27 au 30 janvier 2015, Luxembourg

. (2015).

bibtex
Alice Ahlem Othmani, Cansen Jiang, Nicolas Lomenie, Jean-Marie Favreau, Alexandre Piboule, Lew FC Lew Yan Voon

A novel Computer-Aided Tree Species Identification method based on Burst Wind Segmentation of 3D bark textures

.

Machine Vision and Applications

pp. 1–16. Springer. (2015).

bibtex
See all my publications, or grouped by topic.
Popular science
I was radio presenter in a french radio show named science alors !, and I made a couple of columns about mathematics (in french).
I'm currently producing a serie of three creative sound radio shows (Interface, in french) about technical practice in a research activity.
I'm one of the speakers at the Clermont'ech API hours:
Tools for research
I've created a small tool to facilitate search in scientific articles, with a common search form for multiple search engines: http://jmfavreau.info/search/